One Health is a collaborative approach to promoting the interconnected health of humans, animals, and our shared environment.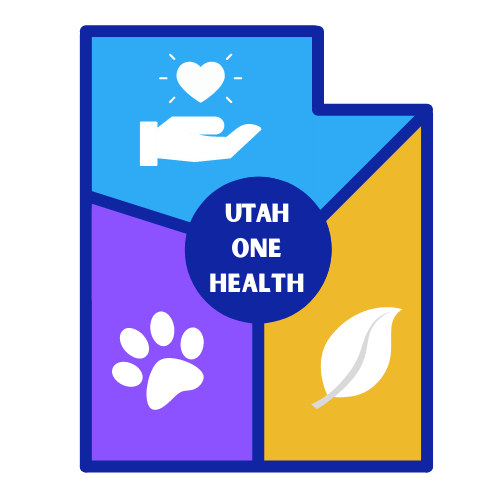 Image provided by the Utah Department of Agriculture and Food
The One Health concept recognizes:
The link between the health of humans, animals, and our shared environment;
The need for multidisciplinary collaboration to solve interconnected health challenges.
SARS-CoV-2 at the human-animal-environment (HAE) interface: Utah has participated in various SARS-CoV-2 outbreak investigations and surveillance projects at the HAE interface. Visit our SARS-CoV-2 One Health page to learn more about SARS-CoV-2 One Health projects in Utah.
West Nile virus (WNV): State health officials, local health departments, the Utah Public Health Lab, local mosquito abatement districts, blood donor organizations, Utah's Hogle Zoo, and Tracy Aviary meet routinely to discuss control of WNV, a mosquito-borne virus that can affect both humans and animals. Read more about WNV prevention and response in the WNV annual reports.
Q fever: Utah One Health partners routinely investigate sheep, goat, and human cases of Q fever, a bacterial disease that can be spread from livestock to people.
Collaborative tick surveillance: State health officials are developing and expanding partnerships with local health agencies, the Department of Wildlife Resources, local mosquito abatement districts, other One Health partners, and the public to conduct tick surveillance across the state. Efforts to launch a citizen science tick submission program are underway. Anyone who wants to submit a tick to contribute to our surveillance efforts should fill out the Utah tick submission form.
Assessing pet rabies vaccination: State and local health officials collaborated to pilot a survey in Tooele, UT to assess the rabies vaccination coverage in cats and dogs. In collaboration with local animal control entities and other partners, the goal of the project is to promote pet rabies vaccination in selected communities.
Salmonella in backyard poultry (BYP): Health officials collaborated with the Utah Department of Agriculture and Food to sample chick shipping papers from local farm supply stores to help identify gaps in traceback sources of BYP along the supply chain. Sampling efforts in Utah will help support the CDC's multi-state project to mitigate human cases of salmonellosis contracted from BYP.
Salmonella in a bearded dragon: State and local health officials identified Salmonella in a pet bearded dragon, which provided the clue needed to solve a multistate outbreak of human salmonellosis.
Thallium in beef: After routine sampling of Utah beef identified potentially harmful levels of thallium, officials from various human, animal, and environmental health agencies collaborated on an investigation to characterize the public health and environmental threat.
Corynebacterium ulcerans in humans and pets: State and local public health officials and environmental specialists worked together to conduct human, animal, and environmental sampling for Corynebacterium ulcerans in a Utah household.